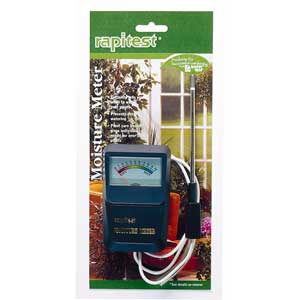 Includes:
Rapitest Moisture Meter, complete instructions for testing moisture and a watering guide and special needs table for over 150 plants.
No batteries required.
The Rapitest Moisture Meter is designed for simplicity of use with accurate results. It is an economical way to test for moisture levels in the soil on a scale of 0 to 10.
Why Should You Test Moisture?
One of the most common problems for experienced and novice gardeners alike is providing the correct amount of moisture to the soil. Damage from overwatering is often difficult to remedy after the fact. Knowing how much moisture your plants are getting help you get better results from your gardening efforts.
When Should You Test Moisture?
You should check your moisture levels each time before you water. If the moisture reading is too wet for the plant you are testing, delay watering until the soil is able to dry out.
How Does Rapitest Moisture Meter Work?
Simply insert the special corrosion-resistant probe deep into the soil of any pot or planter. A tiny amount of electrical energy will be generated by the moisture which will cause the meter needle to register moisture levels from 0 to 10.