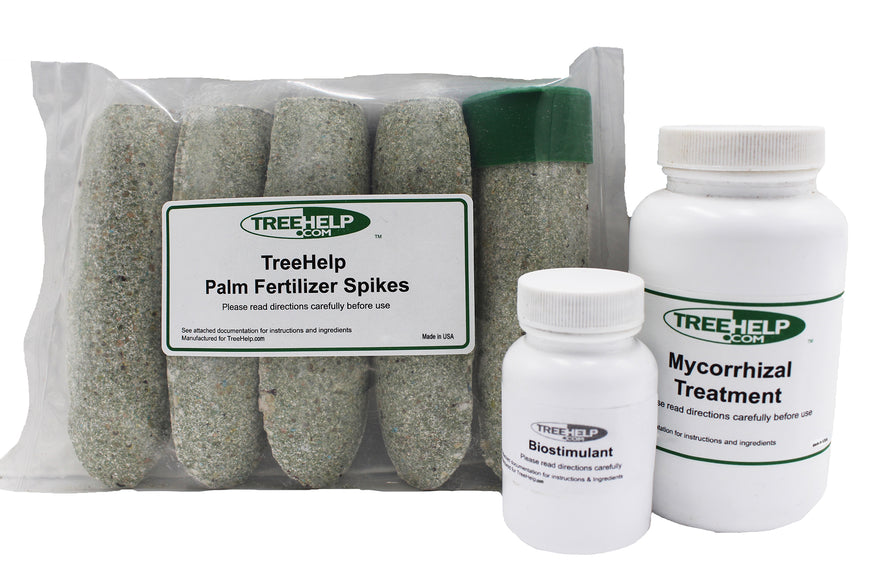 A complete do-it-yourself care package to maintain healthy and beautiful palms, palmettos and sagos.
This kit is designed to treat one large tree or 2-3 smaller or newly planted palms, palmettos or sagos. The kit is applied on an annual schedule that is laid out in the included instructions. The kit can be applied at any time during the growing season, though late fall and winter applications should be avoided.
Includes:
TreeHelp Mycorrhizal Treatment for Palms and Sagos
TreeHelp Mycorrhizal Treatment for Palms and Sagos contains a specially designed and concentrated formulation of living mycorrhizal fungi. When applied to the soil, these beneficial fungi quickly colonize the root system to create excellent conditions for root growth. In exchange for food, the fungi provide water and nutrients to the tree's roots enhancing the plant's uptake. It is a granular soil additive. Using the TreeHelp Soil Drill or similar tool, holes are drilled in the soil around the root ball. Small amounts of the treatment are placed in the holes and intensively watered. The treatment comes in a 6 oz. (200 mL) bottle.

5 TreeHelp Complete Palm Fertilizer Spikes
TreeHelp Complete Palm Fertilizer Spikes were formulated after extensive research into the mineral needs of palm trees. Unlike most off-the-shelf fertilizers, the spikes contain important micronutrients like Magnesium, Manganese and Potassium which are often deficient in palms. When placed underground near the feeder roots of your palm, the spikes release their nutrients where the tree can best use them. Special binders ensure that the fertilizer dissolves slowly and safely and feeds your tree for up to a full year.

TreeHelp Biostimulant
TreeHelp Bistimulant is a dry, water-soluble green-up powder that is watered on tree roots as a root drench. BioSurge provides benefits to all types of trees, shrubs, and other garden plants. It is designed to increase the microbial activity in the soil around the root zone and encourage root and lateral bud development, improve the efficiency of a plant's respiratory and photosynthetic systems and delay the aging process in plant tissue. The unique composition of ingredients includes beneficial bacteria, as well as humic acids extracts, soluble sea kelp, yucca plant extracts, amino acids and vitamins. The biostimulant comes in a 4 oz. (75 mL) bottle.
All items are also available separately.