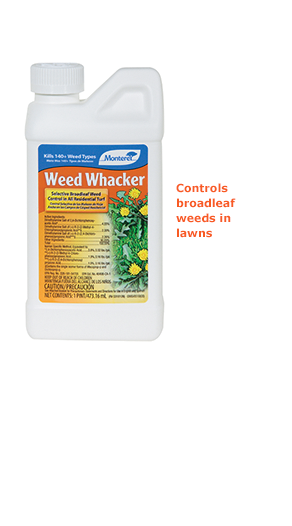 What is Weed Whacker?
Weed Whacker is a three way herbicide for use on homeowner lawns for broadleaf weed control. It contains .33lb./gal. 2,4-D, .33lb/gal. 2,4-DP. It is 13.33% active ingredients.
Weed Whacker controls broadleaf weeds in warm and cool season turf.  There are over 250 weeds listed on the label that it controls.  Many hard-to-control weeds such as wood sorrel (oxalis), spurge, dandelion are on the label.
On cool season turf grass (bluegrass, fescue, rye, etc.) use 4oz. in 3 gallons of water, which will cover approximately 1,250 sq. ft. of turf.  Remember, 1oz. = 2 tablespoons.
When do I apply Weed Whacker?
It can be used all year long.  It works best when weeds are young and actively growing.  You should only use Weed Whacker two times per year in the same area.
What precautions do I observe?
Avoid drift.  Do not use Weed Whacker around desirable ornamentals.  Do not use in Dichondra.
Can I use Weed Whacker on newly seeded turf?
Only after it established, which is after the third mowing.
When can I reseed or overseed my lawn following usage?
Wait 3-4 weeks after usage before overseeding.
What about watering?
Before application, water lawn thoroughly.  After application, do not water for 48 hours.
Are there temperature restrictions?
Do not apply Weed Whacker when temperatures exceed 90°F.
ORNAMENTAL LAWNS AND TURF
Cool Season Grasses - such as Bluegrass, Fescue, and Rye:  To kill Dandelion, Wild onion, Pennywort, Plantain, Healall and similar weeds: use 8 to 13 fluid ounces in 6 gallons of water and apply with pump or hose-end sprayer or sprinkling can to 2,500 square feet of lawn.  For smaller areas - use 3 teaspoons in 2 quarts of water applied to 100 square feet.
To kill undesirable weeds such as Thistle, Bindweed, Dock and Ragweed, use 8 fluid ounces in 6 gallons of water (or 3 teaspoon in 2 quarts of water), and apply directly to plants, wetting them thoroughly. 
To kill undesirable plants such as Poison ivy and Poison oak, use 2 fluid ounces in 1 quart of water and drench plants when they are fully leaved.  Repeat in about 4 weeks if necessary. Certain hard-to-control weeds such as Poison ivy, Poison oak and English daisy may require a Fall application.
Warm Season Grasses - St. Augustine, Bahia, common Bermuda, Centipede, Zoysia, also for Bent:  Use a one-half rate which is 4 to 6-1/2 ounces in 6 gallons of water to treat 2,500 square feet (3 teaspoons in 4 quarts of water applied to 200 square feet).  Make two applications 30 days apart.  Do not spray grasses if stressed from heat, drought, etc. Slight turf yellowing should disappear after about 1 week.
Note:  Some hybrid Bermuda grasses may be sensitive to this product.  Contact your local Extension Service weed control specialist.
For Spot Treatment:  Put 3 teaspoons of WEED WHACKER into an empty quart container with trigger sprayer.  Then add 30 fluid ounces of tap water.  Trigger Sprayer - Adjust spray nozzle to give coarse spray.  Aim at center of weed and spray to wet.  One application should be sufficient. Effects begin to show after a few days and weeds gradually die. A repeat application may be required in 4 weeks for hard-to-control weeds.