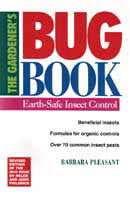 Barbara Pleasant
152 Pages
Paperback
Make Your Garden a No-Pest Zone!
Use The Gardener's Bug Book - the health-conscious gardener's guide to safely controlling garden pests.  Author Barbara Pleasant shows you how to work with nature to reduce garden pests while producing bountiful, environmentally safe, and chemical-free harvests.
The Gardener's Bug Book includes:
descriptions of more than 70 common garden insects

tips for telling the good bugs from the bad bugs

a convenient guide to the pests found on 72 common vegetables and fruits

clear illustrations and behavior hints for identifying each insect

dozens of easy formulas for making natural pest-fighting preparations

instructions for using commercially-available pest controls, including floating row covers, traps, and parasitic insects
About the Author
Award-winning author Barbara Pleasant has written three books including Warm-Climate Gardening (Garden Way Publishing).  She writes for newspapers and several magazines including GreenPrints, Organic Gardening, and Country Journal.  She lives in Huntsville Alabama.