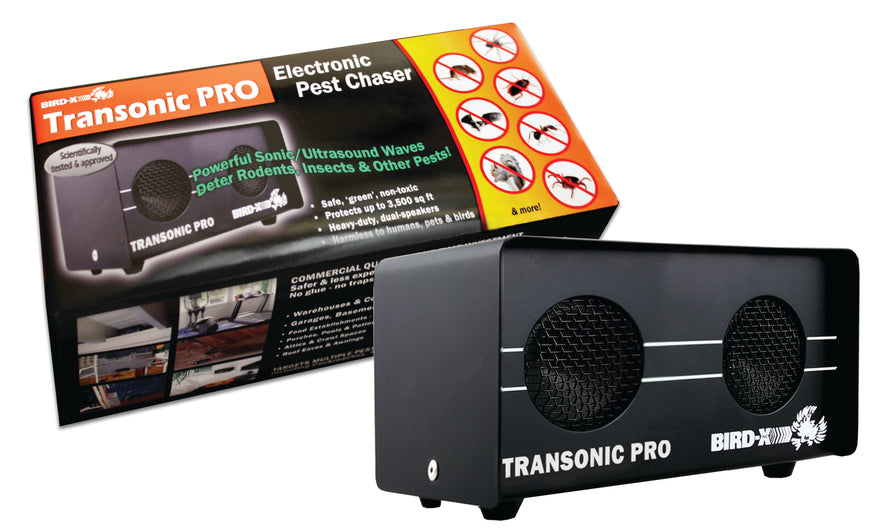 This low-profile electronic pest repeller uses ultrasonic and sonic sounds to evict mice, bats, spiders, cockroaches and crawing insects. Works well in your kitchen, garage, basement, workshop, shed or attic. The Transonic Pro is a cost-effective, easy solution to your pest problem. The sounds are audible to humans.
Specifications:
Dimensions- 6" x 3" x 3" Weight - 3 pounds Coverage - Up to 3,500 square feet Power - Less than 5 watts Power Input - 9v (150mA) Adapter /110 or 220 vAC, or DC via battery Frequency - 3-40 kHz Sound Pressure - 96 dB at ½ meter Includes - Unit, AC Adaptor with cord, complete
How The Transonic Pro Works:
Independent laboratory and university testing has proven ultrasonic and sonic sound technologies to be effective forms of pest deterrents. Pests are repelled away from your Transonic Pro unit because they cannot adapt to the constantly changing array of ultrasonic and sonic signals emitted by the device. The unit disrupts the pests' habitat, effecting their feeding and communication habits, forcing them to leave the area. The unit is safe for use around humans, children, and pets such as dogs, cats, birds, and reptiles.
Possible Uses:
Any indoor location where electricity is available and pests are a problem.