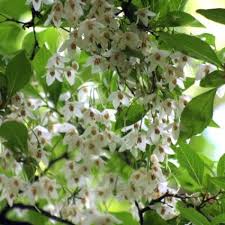 Zone: 4
Grows to: 35 ft.
Native to the Appalachians, the Carolina Snowdrop is good for shady corners or along the edge of woodland borders. A medium-sized flowering tree averaging 35 ft. at maturity and hardy to zone 4. No susceptibilty to disease or insect problems. Flowers are dainty little white bells in clusters of three to five in springtime. Tree shows some winter interest by retaining small 4-sided hanging seed pods. Yellow fall colour. Heavily fissured black and grey bark.
How To Start These Seeds:
Scarification: Soak in water, let stand in water for 24 hours
Stratification: Warm stratify for 90 days, cold stratify for 90 days
Germination: sow seed 1-2 inch deep, tamp the soil, mulch the seed bed
Other: Natural fall sowing for spring germination.
Seed Count Per Packet:
This packet contains 15 hand-sorted, high-quality seeds.
If refrigerated upon receipt, these seeds can be stored for up to a year before you decide to use them.