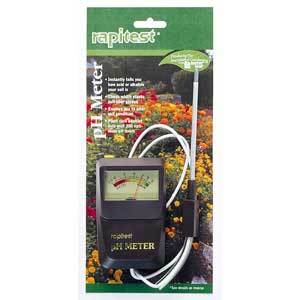 Includes:
Rapitest Soil pH Meter, complete instructions for testing pH and a chart with the pH needs for over 400 plants.
No batteries required.
The Rapitest Soil pH Meter is designed for simplicity of use with accurate results. It is an economical way to test for acidity (pH) levels in the soil.
Why Should You Test pH?
Plants need the correct pH (acidity/alkalinity) level which controls how well plants utilize the nutrients available in your soil. All plants have a pH preference, so it is important to know the pH level of your soil. You can then choose plants with the same pH preferences, avoid those that will not do well in your soil, or know how to go about supplying their special growing needs. By testing your soil, you determine its condition so that you can adjust pH more accurately, effectively and economically.
How Does Rapitest Soil pH Meter Work?
Simply push the metal probe into wet soil and note the pH level on the display. Then compare the number to the list included in the package to find out if it matches your plants' pH preference. It takes only seconds.