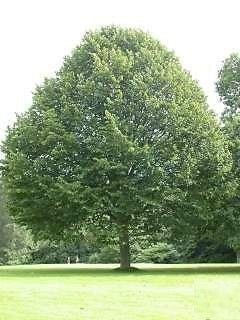 Zones: 5 to 8
Mature Height: 70 feet
Mature Spread: 35 feet
The Silver Linden is similar to other lindens with silvery underleaf visible when the wind blows. Yellow white flowers in June. Beautiful golden yellow fall colour. The formal shape of this tree makes it ideal for manicured gardens. A favorite shade tree.
When choosing a location, keep in mind that the Silver Linden has a moderate growth rate. It grows up to 70 feet in height and 35 feet in spread. It can be planted in zones 5 to 8. Prefers full to partial sun and moist, well-drained soil. Somewhat tolerant of drought and urban conditions.
How To Start These Seeds:
Scarification: Soak in hot tap water, let stand in water for 24 hours
Stratification: Warm stratify for 90 days, cold stratify for 90 days
Germination: Sow seed 1/2 inch deep , tamp the soil, keep moist, mulch the seed bed, cover seedbed with some shade.
Other: Spring sowing of unstratified seed will produce germination the next spring.
Seed Count Per Packet:
This packet contains 40 hand-sorted, high-quality seeds.
If refrigerated upon receipt, these seeds can be stored for up to a year before you decide to use them.