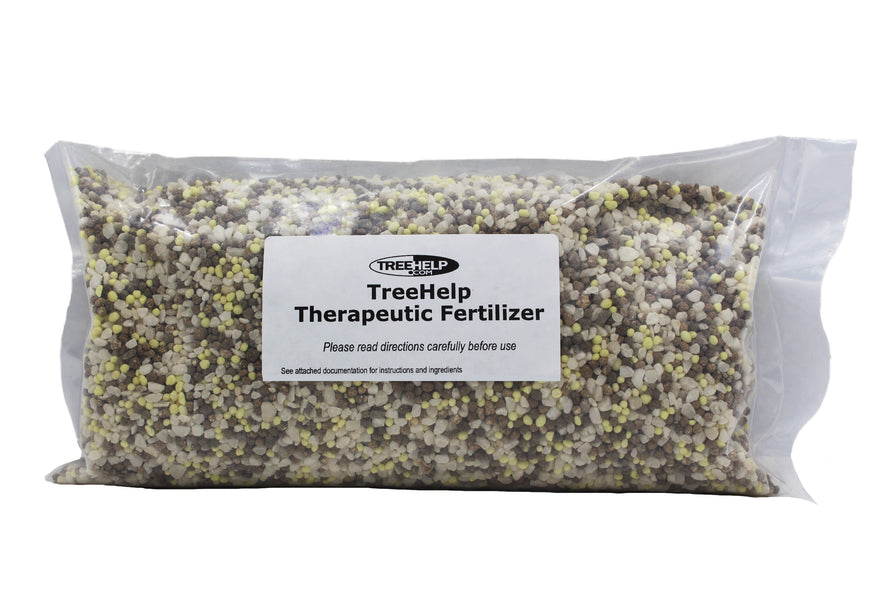 1.5 kg Bag
Treats one large tree or 2-3 smaller or newly planted trees
TreeHelp Therapeutic Fertilizer is a high-quality granular blend containing high amounts of Potassium and Phosphorous which are important components in promoting strong root development and slow dense vascular system growth.
If a tree is sick or struggling, it is important to provide it with the nutrient ingredients which promote slow dense woody lignin growth which will assist it in fighting off disease and "walling-off" pathogens. 
It is important that sick and struggling trees do not get "over stimulated" with high levels of nitrogen.  Nitrogen is excellent for stimulating green canopy growth, but is detrimental, in high dosages, to struggling trees that instead need to focus their growth on strengthening their vascular system.
The TreeHelp Therapeutic Fertilizer does contain limited amounts of Nitrogen, but it is in a specialized controlled slow-released format that prevents "over-stimulating" canopy growth.
A common misperception is that struggling trees should gets lots of Nitrogen to help it "green-up". This is not the case.  Most "General Tree Fertilizers" contain large amounts of quick-release Nitrogen and promote fast, weak growth.  This should be avoided when treating struggling and sick trees.
TreeHelp Therapeutic Fertilizer is different - it provides the tree with the right nutrients and dosage levels that promote strong, slow healthy growth which is vital to helping a sick tree recover.