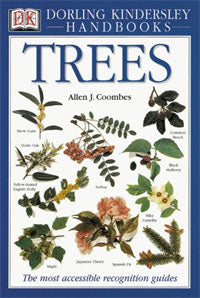 Trees  
DK Handbooks series
By Allen J. Coombes
214 x 150mm
320 pages
ISBN 1564580725
Aug 2001
Dorling Kindersley
Paperback
 
Authoritative text, clear photography and systematic approach make the DK Handbook Trees the most comprehensive guide to a wide range of species from around the world. Packed with over 1,000 full-colour photographs of more than 500 trees, it is designed to cut through the complicated identification process to enable you to recognize a species instantly.
Photo-Encyclopedic Approach
For beginners and established enthusiasts alike, the DK Handbook Trees explains what a tree is, how trees are classified and how to keep a record of trees you have seen. To help you in the initial stages of identification, the book provides a visual key that shows you the differences between conifers, broadleaves and palms, identifies each genus by leaf type and guides you to the correct species entry. A concise glossary defines technical and scientific terms.
Identification Made Easy
Expertly written and thoroughly authenticated, each species entry combines a precise description with annotated photographs to highlight the tree's chief characteristics and distinguishing features. A full-colour illustration, showing the spread, height and leaf persistence of the species, as well as colour-coded bands providing at-a-glance facts for quick reference, completes every entry.
The clearest and sharpest recognition guide to over 500 tree species

Packed with over 1,500 crystal-clear photographs and illustrations with precise annotation to make identification sure and simple

Concise and jargon-free text pinpoints the key characteristics of each species and provides quick, accessible information